Tube Audio:
Emission Lab Home Page Japan tube audio.
Tetsu Kimura's Home Page schematics; preamps and poweramps.
KiewA Valley Australia Leak, Quad and Tannoy.
Hello, Mister Valve ! www.ominous-valve.com/tubes.html
People & Music:
Beth Gibbons
www.stereolab.co.uk
Stereolab!
Timothy Leary Homepage
www.bjork.com
Bjørk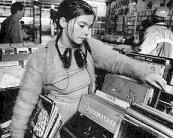 Fun:
Others:
Adbusters Culture Jammer's Headquarters


OpenOffice the best and FREE officepackage!